3 liters Jockel fat fire extinguisher F3H System 8, incl. 1 pc Petromax fire pan fp25
Fire class A, B and F
Frost-proof down to -30°C,
2 LE
Extinguishing agent dosing via switchable lever fitting
Including foot ring and wall bracket
The pan:
The best material: cast iron
Suitable for all cooking zones
Capacity: 1.6 liters.
Diameter: 25cm
Weight: 2.5kg
Price offer: €139 incl. VAT
Only while supplies last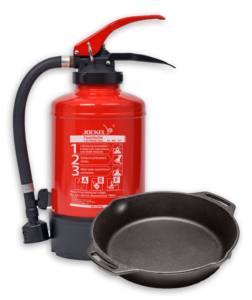 Technical specifications
2l aqueous solution for grease fires
Universally applicable in fire classes A, B and F
Frost-proof down to -30°C
Special price: €49.99 incl. VAT
instead of €85 incl. VAT

Original Petromax Dutch Oven ft9, ideal for cooking and baking outdoors or in the home oven. Pot capacity (max.): 7.5 l
Incl. Shapely fire extinguisher in the design of a ketchup bottle (unfortunately not suitable for consumption)
Price offer: €159 incl. VAT
Only while supplies last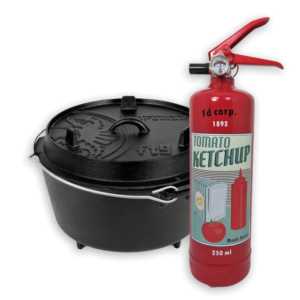 BBQ pack
– indispensable for the ambitious "grill master"
2 liters Jockel design grease fire extinguisher "I won't let anything burn" in black with a white extinguishing nozzle (other colors also available on request)
Fire class: ABF, functional range: -30°C to + 60°C.
+ Petromax Outdoor Cookbook, 144 pages with over 70 recipes for the kitchen in the open air
Price offer: €109 incl. VAT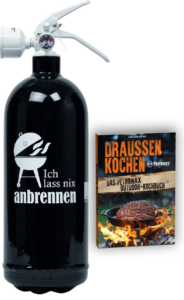 Design fire extinguisher "Red Bull"
Incl. 1 can of 250ml RED BULL "The Red Edition"
This 2kg powder extinguisher gives "no wings", but the feeling of security.
Price offer: €99 incl. VAT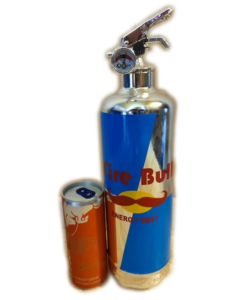 Decorative 2kg powder extinguisher
…in a real wood box in the style of a fine wine.
Not suitable for consumption, but definitely an eye-catcher at the next party.
fire extinguisher incl. Wooden box at a unit price of €79 incl. VAT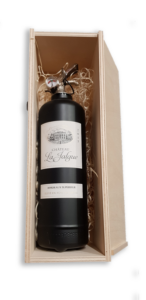 We, too, are rooting for our national team:
EM party with fun & safety
2 kg powder fire extinguisher "special edition" design made by Biehl Feuerschutz
Incl. 5 liters Barrel of Bitburger Pils
€89 incl. VAT
Only while stocks last!!!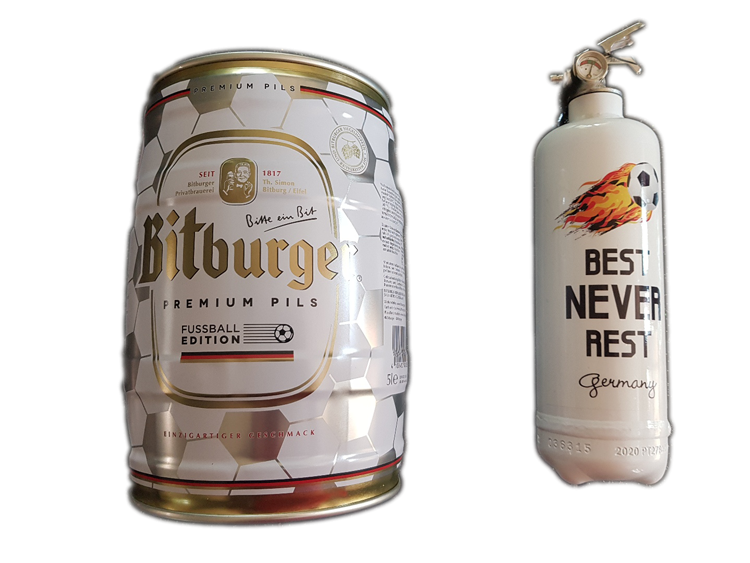 Protective hood for fire extinguishers
LUMINOUS ORANGE OR NEON YELLOW
(strongly noticeable / UV lightfastness according to EN ISO 105 – B02 = 4 )
with printed fire extinguisher symbol according to ISO 7010/F 001
suitable for 4 +6kg fire extinguishers
Unit price: €9.95 incl. VAT
Design wooden container with door
for fire extinguishers (e.g. 6 kg/litre)
Material:
22 mm thick spruce wood
painted with fireproof paint
Colour: nut
suitable for indoor use.
Dimensions:
Total height: 805mm
Outer diameter: 310mm
Internal height: 620mm
Inner diameter: 270 m
large pivoting door with 2 hinges.
Sale without decoration material
Offer price: 129.00 incl. VAT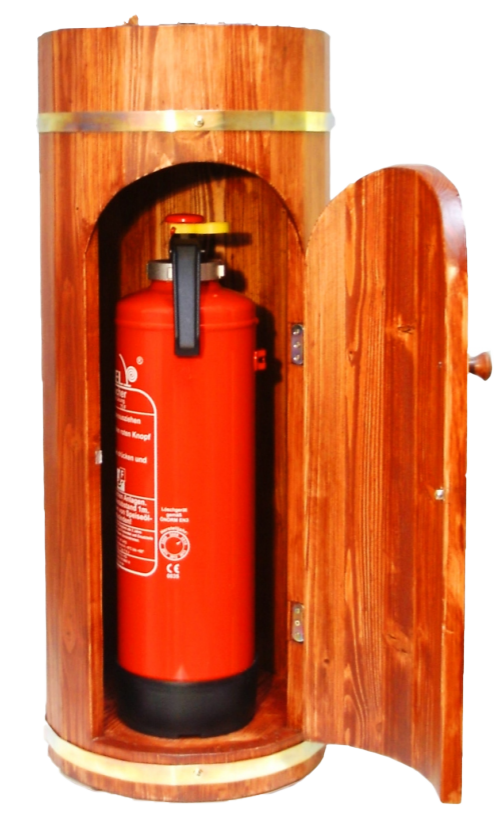 2kg high performance ABC ‎charging powder extinguisher
The device can be used for fires in the home and workplace, in automobiles, boats, camping and for all leisure activities
Erase Performance/Rating: 13A89B C
Working range: -30C°-+60C°
Propellant CO2
Offer price: 29.95 incl. VAT